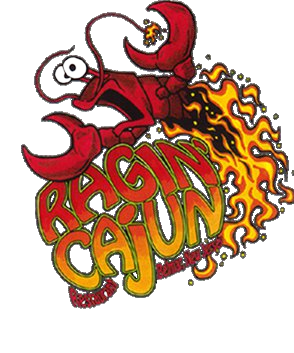 How it all started: In Tracie's Words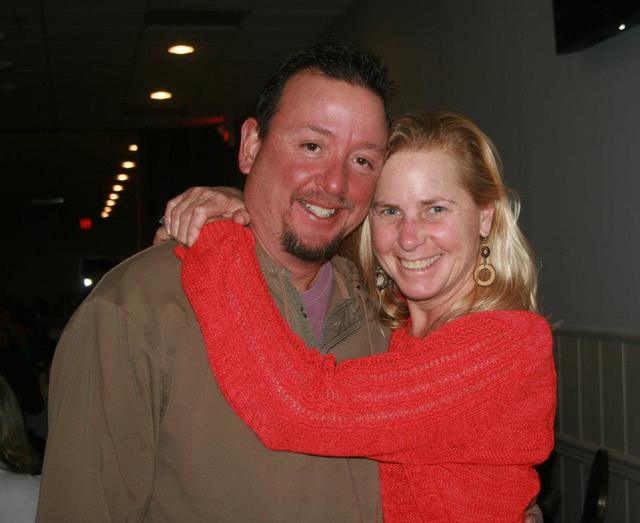 No one would believe me if I told them I had opened Ragin' Cajun because of a steak sandwich. Actually it wasn't any ordinary steak sandwich. This one came flying through the air and crashed against the wall just inches from my head.
The chef had thrown it at me because the cheese had coagulated while he burned a chicken kabob for the second time. I refused to take it out to the customer. I said to the chef," You cooked it, you take it out." 
Crash.
I told the customer that the chef was mentally ill and that the steak sandwich had met with an unfortunate fate. If he wanted, I'd be happy to make him a salad. I got fired. I was told I didn't work hard enough.
My rapport with chefs has never been good. One guy Rico use to scream profanities into the dining room calling the waitresses every horrible word in the book. Even that one.
So for a "chef" to whip a steak sandwich with coagulated cheese at my head was right in line with the hard boiled eggs, the knives, the plates, ice snow balls and stock pots I have had to dodge throughout the years.
I left college in 1982. I traveled the resort circuit working in St. Thomas, Park City, Utah, The Outer Banks, and somehow ended up in Virginia Beach where Jo Jo introduced me to Cajun food. In the summer of 1989 I came to New Jersey to visit my grandparents. I decided to stay. Thank God because Grandma passed the following summer. What a terrific year I had!

I went back to school thinking that I would be a Lawyer. I got fired from seven jobs in three years for being, well, um, let's just say I'm a little too sassy for management.
The flying steak sandwich was the last straw. I decided to rent a tiny storefront in Belmar, New Jersey for a couple of years. I wanted to prove to all those culinary school paper hatted idiots that the restaurant business is sooooo easy that even a dumb-ass girl with no formal training could run one successfully.
I chose Cajun food because I found that every menu in the area had a "Cajun" item but there was no "Cajun" food. Not the real thing anyway. Besides, I figured if anything, I would eat well. I did some research and had come to love the whole concept of the Cajun people.
Their cuisine merely marks a way of life and a style of living indicative of the character of the Cajun people themselves. There's the spirit of their imagination, creativity and abundance of love much needed in the world today. I try to convey that same love of life at the Ragin' Cajun. With the help of my staff and the tolerance of my clientele, I believe  we've accomplished an incredible taste of the Bayou.
It's almost twenty years and I sit on the porch of my yellow house watching heat lightning flash over the Shark River Basin thanking God I never took the LSAT.
My friend Billy comes in and we're talking about how far I've come on such a spiteful whim. I stand behind the stove in my apron cooking up Broccoli and Crab Soup. He stands next to me drinking iced tea talking to me while I stir the pot. I tell him I am happy for my success and that I feel I'm right where I'm supposed to be.
He points to my feet and laughs. "Who gave you shoes?" I throw a lime at his head. He ducks and it splats against the wall. I suppose I am no different from a chef only I don't wear whites and I laugh as I whip things across the room. I make some Chicken Etouffé for Billy and myself. I serve it at the counter where we both sit down to eat. I would never serve a steak sandwich with coagulated cheese.  
In fact, I would never serve anything I wouldn't eat myself.
***Laissez les bon temps rouler***
"Let the good times roll"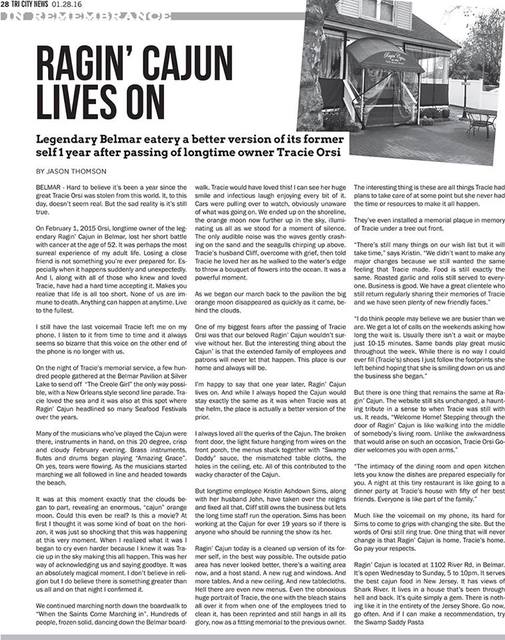 1102 River Road, Belmar, NJ
Tues- Thurs 5:00pm – 9:00pm
Fri – 5:00pm – 10:00pm
Saturday – 4:00pm – 10:00pm
Sun – 4:00pm – 9:00pm
(RESERVATIONS SUGGESTED)

*Groupon & Restaurant.com certificates purchased AFTER 2016 can be redeemed for dine-in only and are not valid on Friday or Saturday
*WE NO LONGER ACCEPT CERTIFICATES PURCHASED PRIOR TO 2016*
Sittin' bayou makes me hot!